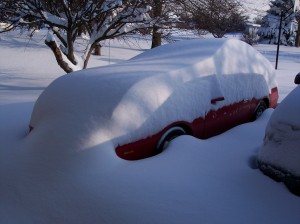 Last week, The Weather Channel unveiled a thrilling new prime-time show. It followed the journey of a devastating winter storm that slammed the U.S from New Mexico to the East coast, resulting in hazardous road conditions, fallen power lines and frigid wind chills of 30 below.
The reality show, which featured unscripted drama and a whole host of sensational situations, attracted a viewership nearly three times larger than the previous several weeks.
Okay, so maybe they didn't have to do any casting, pay writers or listen to TV show pitches from a variety of aspiring young blizzards in order to find a winner. When it comes to selecting programming, The Weather Channel is pretty much in a league of its own. When real-life weather gets interesting, viewers naturally want to tune in to see the live coverage.
But is the network content with that role?
As it turns out, The Weather Channel was actually planning to launch a new line of original weather entertainment programming on the 31st of January. When the epic blizzard came about, however, those plans were temporarily shelved.
Although they remain committed to covering severe weather and emergency situations, network executives report that on normal days, original taped programming such as "Storm Riders" will get the best ratings.
Some viewers, however, don't seem to be on board. In the comments section of a NY Times Media Decoder article, one reader said "I rarely watch the Weather Channel anymore – they hardly ever tell me the weather."
Another commenter agreed that the network "has been dumbed down and gotten away from their best work, which is LIVE Weather. Stupid entertainment programming should not be allowed."
What do you think The Weather Channel's priority should be? Should they try to appeal to the hip, younger demographic with shows designed to entertain, not just inform?
Blizzard reality show, looking pretty ticklish!
Photo by WDRdesign