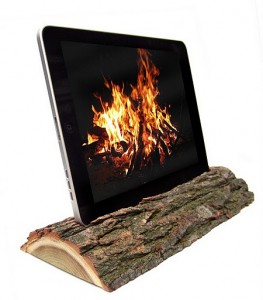 Since it is about halfway between a laptop computer and a smartphone, some consumers aren't quite sure what benefits an iPad will bring them, especially when it runs at around $500.
These people are clearly not aware of the tablet's most impressive new feature: the ability to turn into a fireplace and provide a comfortable gathering spot for friends and family or even set the mood for a romantic evening for two.
The new i-Log iPad stand is crafted from carefully chosen re-claimed London wood, and is also a charging station. Couple it with the FirePlace app, which brings the "warm glow and crackle of a roaring fire" to your device, and you're set, whether you need an ambiance for swapping scary stories or cozying up with your date.
Perhaps you could even roast digital marshmallows or pieces of meat.
Unfortunately, these products have not completely replicated the fireplace experience as they don't produce any realistic iSoot for you to clean up. This feature will hopefully be available in upcoming editions, and it is also rumored that the fire will soon be able to spread and delete your other iPad apps if left unattended.
i-Log and Fireplace app for iPad, you are tickle city!