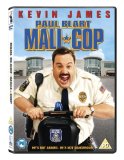 Kevin James is really cementing his status as a premier actor with some of his recent projects.
In addition to the popular comedy Grown Ups featuring Adam Sandler, David Spade, Chris Rock and Rob Schneider, his 2009 film Paul Blart: Mall Cop in which he plays an overweight mall cop who must fight gang members after they hijack his mall, somehow didn't tank completely. (It actually did much better than expected, grossing $219 million.)
It seems that the best is still to come, however. Filming is currently in progress for a film called What You Don't Know starring Vince Vaughn and James, directed by Ron Howard.
James' other upcoming film, however, blows that one right out of the water. Check out the synopsis of Zookeeper (2011) from Wikipedia:
A lovable but lonely zookeeper (Kevin James) gets advice from the talking animals at his zoo on how to win the girl of his dreams (Rosario Dawson).
The movie will star the voice of Adam Sandler as a Capuchin monkey, Sylvester Stallone as a lion and Judd Apatow as an elephant. With a star-studded (animal) cast, this looks to be a very ticklish film.
James, who named his daughter Shea after the Mets' Shea Stadium, is certainly tickle city!