"Looking real ticklish" is quickly becoming another popular way to say something is tickle city. Wear this stylish shirt to let everyone know that you are hip, interesting and fun!
Shirts are 90% cotton, 10% polyester.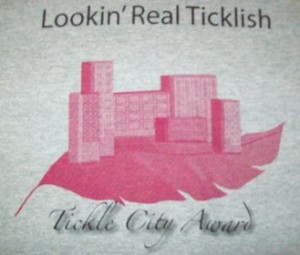 T-shirts are $10 each, and come in Small, Medium, Large and X-Large sizes.
We are working hard to enable shipping of T-shirts. As of now, we are limited to serving individuals located in the Midwest United States.
If you live in the area and are interested, send us a message with "T-shirts" in the subject line and we'll get back to you right away with ordering instructions.