We, the Tickle City Award Committee, strive to recognize the most "outstanding hip, interesting and creative contributions to the field of modern popular culture."
Guidelines for Submissions
Send us a detailed description if you have an interesting blog or are involved in something musical, theatrical, technological, athletic, or anything else "tickle city!"

You can also submit your reviews or opinions of other funny pop culture-related things that you read in a news article or witness with your own eyes.

To make a submission, use our official submission form.If you'd prefer to send it by email, the address for submissions is committee AT ticklecityaward DOT com.

Submissions can be as long as you want, but we recommend writing at least a paragraph or two. We also might follow up with more questions.

To give yourself the best change for acceptance, try to spin your project in a manner that would be interesting for a general audience. We only post stories that are hip and fun for everyone!
As long as you meet these guidelines and we agree that your submission is "tickle city," we'll write a funny news article or review of your project, including your own writing if appropriate.
If your submission is especially impressive, you have a chance of winning the Tickle City Award, an honor which we hand out quarterly.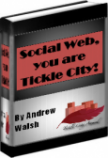 In addition to being featured as the subject of our newsletter and heavily promoted on all our social media channels, you'll receive a prize package including Tickle City gear, a free copy of our ebook, a guide to using blogging, social media and more to promote personal projects (right), and other surprises.
If you have something you would be interested in donating to the Tickle City Award prize pool, let us know.
To stay on top of pertinent dates and prize information, join our newsletter and follow us on Facebook or Twitter.