This is a guest article by a Tickle City Austin contributor:
Having never attended Austin's famed SXSW before, I felt like I was embarking on a musical pilgrimage of sorts. A long-standing tradition of sinking into Austin's relaxed, downtown atmosphere with an endless soundtrack of live music. In all honesty, I had high expectations for this festival and was prepared for some degree of over-hype and disappointment. Instead, I was all but floored. It's definitely worth it to come experience the real thing.
From the epicenter of the madness (Downtown on 6th St.), you'd be hard pressed to cast a stone and not nail someone in the front row of a live show. Bar hopping can be equated to scrolling through songs on an iPod, except that ice-cold Shiners and a uniquely intimate set with the band is waiting for you too. Truly a Mecca for lovers of live music.
Choosing not to invest in the insanely expensive wristband, I experienced the free side of SXSW and there was a staggering amount of free shows. Absolutely no way you could create an itinerary to incorporate it all, much less describe it in one post. So I'll just recount one memory:
…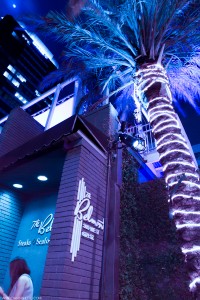 8pm at the Belmont and there's already a line of people waiting for a show with Hoodie Allen, RJD2 and Chiddy Bang. The outdoor music venue is complimented by a mild spring night, the kind of night that makes you forget how quickly Austin turns into a hellish oven in the coming summer months. Definitely one of the best times to be in this city.
My fellow blog writer and I are enjoying the early goings of the media and VIP portion of the show, a privilege we are relatively unfamiliar with. To put it frankly, we had become writers for a blog and official media guests of this show in a matter of days. Certainly a whirlwind beginning to our careers, but maybe an auspicious start as well. It's always been my feeling that the best adventures begin without much warning or preparation.
In any case, the complimentary drinks and warm up sets from the artists seemed like more than enough to distract us from forming our first blog post. A few free microbrews and RJD2 as the house DJ would make anyone feel as though they were in the place to be, a sentiment that I feel most easily embodies the attitude of SXSW. Although larger acts have begun to overshadow some of the up and comers, this festival is still so packed with great, small-venue shows that Jack White can perform on a street corner without drawing the entirety of people out that night. There's just an overwhelming amount of places to be.
As the warm-up show progressed, we fell into an opportunity to take part in a brief interview. We were approached, and without much contemplation, we accepted. The only problem was we never caught the name of the person we were going to be speaking with. Every time it was mentioned the music seemed to maliciously rise in volume and mask it just enough to prevent even the most hopeful of guesses. It's very possible we had reached our limit on free drinks, but at this point it felt wise to just go ahead and feign understanding. We had already seen that things move at a fast pace in this world; better not hold things up on our account.
We were escorted and then left to stew in the waiting room, where we were introduced to the new Windows Phones (which look very cool; looking forward to their Verizon release). In a few minutes we made our way to the green room and were briskly ushered to a table seating someone who looked as young and curious as we did. Unprepared but not yet undone we introduced ourselves, and he, like the others, assumed we had been brought up to speed.
And having to be brought up to speed was right, as our interviewee seemed as if he was going a hundred miles an hour in his head, his speech moving at an equally breakneck pace. Suffering through our offerings of worn-out polite conversation, he seemed slightly taken aback by the vague start to the interview. I felt it was going to be necessary to take a leap. I had initiated the topic of writing, and to my interviewee's credit he answered my scattered questions without much hesitation.
He described his writing as centered around the topic of life, at least life the way he has experienced it. And although that sounds cliché, he assured, it's really the most direct way I can describe it. I agreed, also feeling that writing is maybe most valuable as a means of personal expression and understanding. It seemed like something an artist would say… and with this, the mystery began to unravel.
My interviewee's approach to writing and the speedy, almost nervous pace of his speech pointed to his thoughts being elsewhere. It started to seem more than likely that this person was taking a much bigger stage than this interview tonight. Only by eventually admitting our ignorance and thoroughly embarrassing ourselves did we finally identify the interviewee as none other than up-and-coming rapper Hoodie Allen.
With the elephant in the green room finally addressed, we were able to discuss a shared interest in alternative and hip-hop music, as well as his rising prominence with the college age crowd. I even discovered Hoodie graduated from school in the same year as me, and in many ways is extremely relatable in his tone and approach to music and work. All this made it a lot less surprising that we could find common ground without knowing who or what the other did.
Hoodie would take the stage minutes after our conversation, bringing an impressive energy and confidence to his set. He took a gathering of people at the Belmont and turned them into a pulsing crowd. It's never easy to open and even harder to compete with talent like RJD2, Chiddy Bang and Xaphoon, but Hoodie Allen held his own. I just hope next time we can hold our own in the green room.
By Hamish, Austin Correspondent
…
Other highlights (Thanks to BroBible.com and Windows Phone, sponsors of "From Austin with Love" at the Belmont):
– Check out Hoodie Allen's new album:
– Chiddy Bang with his producer/drummer Xaphoon kept it old school with a new twist, freestyling with words being posted live by fans on twitter. Chiddy mixed in most of the words and phrases without missing a beat, meeting expectations in what has become a signature act.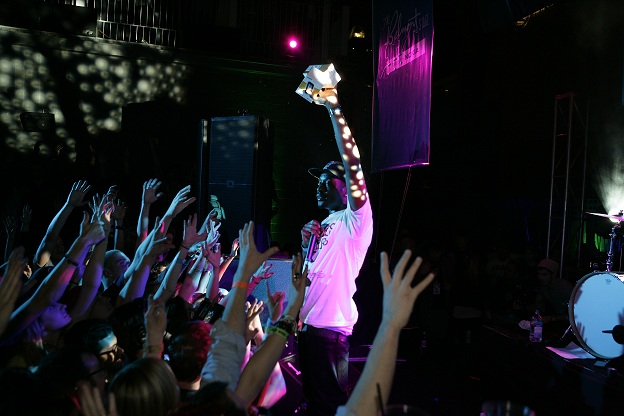 Photo credit DanielDavisPhoto.com