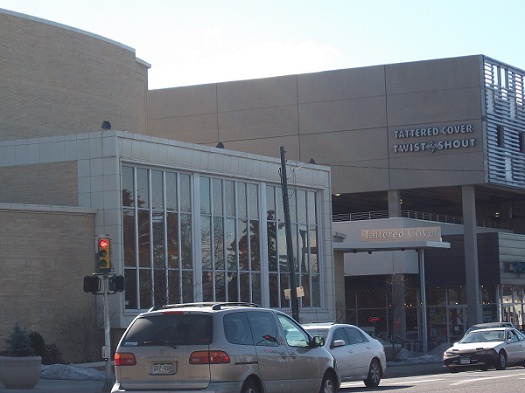 Many people feel comforted when they enter a national chain bookstore. This comfort derives from knowing that no matter what city they go to, their experience of purchasing a book will always be the same. The same books will be in the same section in every local outlet, and the same in-store coffee company will lure them in with the prospect of sipping on a nice warm cup while browsing the endless shelves of magazines and CDs that are inevitably in the same areas in every store across the country. Knowing all this, how do you enjoy something that is not part of the cookie-cutter bookstore?
Tattered Cover Book Store shows you exactly how, proving that a bookstore can be more than simply comforting—it can be an exciting and unique experience.
Established in 1971, Tattered Cover is an Indie store that truly lives up to its name. When its doors first opened, Tattered Cover was not more than 950 square feet and two employees. Since then, the store has grown into a Denver metro area giant, with five separate branches in and around the city. Upwards of 400 authors, illustrators, and special guests have visited and spoken at these locations, giving fresh perspectives and new ideas to those who come to the store.
Individuals such as Julia Childs, Barack Obama, Isabel Allende, Kurt Vonnegut, J.K. Rowling, and Newt Gingrich have been special guests, and many more are sure to follow. Don't let it popularity fool you though; Tattered Cover is at its heart, a bookstore committed to comfort in ways that cannot be emulated anywhere else.
For instance, the Tattered Cover on Colfax Avenue feels like coming home every time. Among the ceiling-high bookshelves categorized into hundreds of different sections are little nooks and crannies with comfortable couches, armchairs, and coffee tables in which to read a newly published novel or browse a fashion magazine.
If nothing new is interesting, customers are free to browse the impressively expansive collection of used books, priced anywhere from three dollars to ten. Some patrons strike gold with an autographed book, as some of these books are tucked in with the other un-autographed copies.
Additionally, every store has free wI-fi, so customers can sit for hours surfing the internet surrounded by the crisp smell of paper and antique wood. If the day is nice, patrons can take their business outside, onto the dainty white metal chairs and tables at the entrance to the store. This is sometimes preferable, since the delicious smells of locally brewed coffee, tea, and pastries can waft from the attached café located in the front.
Whether tucked into a cozy corner inside or enjoying a beautiful day with a book outside, spending time at Tattered Cover feels intimate and special.
Tattered Cover, you are tickle city!