The Aarting Collection is a project with a big ambition: to democratize the tools of art production, distribution and consumption. And how exactly will they accomplish this? With a cute little toy named "Blankie," of course!
The project, founded by the soon-to-be husband and wife team of artist Todd Wahnish and producer Melissa Carroll, makes designer toys using submissions made by artists from around the world. These designs are then voted on by the public and the winning artists watch as their designs are actually manufactured and sold.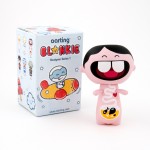 As an experienced artist with a strong network of graphic designers, Todd approached a big toy design company in 2007 with some ideas, only to be turned away because the CEO had never heard of him. But instead of getting discouraged, he decided to go his own way and simply make them himself.
He set up a modest website so his friends could submit their designs, and with the help of a programmer friend he set up a voting system. After doing some promotion on a few blogs and online forums, he was pleasantly surprised to receive nearly 200 submissions and 150,000 votes.
"Blankie" is the name of the figure that the designers then dress up according to their own artistic vision. The first run of Blankie included 12 different designs and is currently sold by a variety of boutique stores both in the United States and worldwide.
To continue the excitement of the first series, they have launched a new project on Kickstarter to help fund the production of Series 2 (below).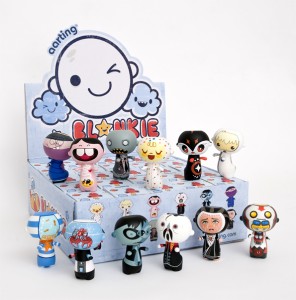 Community-Based Art Brand
The Aarting Collection has been dubbed the first community-based art brand. Now what exactly does that mean?
In short, it represents a new model that combats the traditionally exclusive market for designer art. Rather than being at the mercy of an elite group of businesspeople operating on strict profitability metrics, The Aarting Collection aims to shift the power to the people and ensure that the actual merit of the art is the most important factor.
"I wanted promote the best talent – regardless of name recognition, access to technology or the limitations of geography," Todd explains.
The project has gained some media attention including an article by The Huffington Post. Its website further reflects on its role and mission:
A community-based art brand is one that creates things that create themselves. Something that is able to grow in ways that we can't predict, something that feels alive. We believe that this is the definition of good art.
Melissa even described to us why the idea is especially tickle city:
Our goal is to merge the two pop culture areas of community involvement and designer toys. We think our designs bring smiles to everyone!
We certainly agree. Community Designed Toys, you have won the tickle city award!