The East Coast has its fried clam bellies, and the Rocky Mountains their prairie oysters, but if you're craving squishy, pungent morsels in the Midwest, head for the Great Lakes, find a town where fishing boats head out daily and return to supply the local restaurants with their fresh catch, and make your way to an establishment that offers whitefish livers on its menu.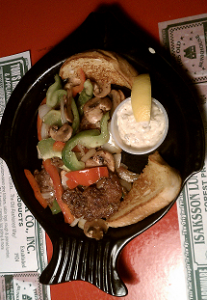 A recent submission by reader blue.pencil highlights a unique restaurant item that is very popular in a few areas near the Great Lakes, and almost completely unknown outside of the community.
For those that can stomach the idea of seeking a snack that is "squishy," whitefish livers can be a wonderful treat. blue.pencil described them in more detail, and encourages the skeptical to give them a try:
Smaller and more delicate in flavor than chicken livers, whitefish livers are virtually unknown farther inland. In the Bayfield, Wisconsin area, the local restaurants usually prepare them either deep-fried or sauteed, often with onions, peppers, mushrooms, and garlic. The best ones are tossed in flour and pan-fried till they're slightly crispy on the outside, then soft and creamy on the inside. When the plate arrives at your table, the fishy-spicy aroma will entice even the liver-phobes at your table to try a bite.
Whitefish livers are by no means a recent creation, and their history is a very interesting one, as explored in a NY Times article. Back in the 1940s, the owner of Gruenke's Inn in Bayfield, WI
(a tiny town in northern Wisconsin whose population doubles in the summer months) decided to make a "daring" move by putting them on his menu; up to that point whitefish livers had merely been a favorite of the local fishermen.
Risking a fierce backlash from the notoriously influential Bayfield media, Gruenke made sure everyone in town got a taste of his whitefish livers. He was said to have gone "strolling around his restaurant shouldering platters of livers, offering them to the uninitiated and, it is said, winning converts right and left" (NYTimes).
Today, they are very popular at many restaurants in the area, and they have also been spotted at the Gally Inn in St. Ignace, Michigan. As far as the Tickle City Award Committee knows, however, you can't find them in many other places. To get your fix, blue.pencil advocates a trip to Bayfield:
If you want to try making whitefish livers at home, don't bother looking for them at your local fish market. They're simply not harvested in sufficient quantities to ship outside the area. However, in the Bayfield area, in addition to fresh-caught and smoked whitefish and trout fillets, some of the local fish markets sell raw whitefish livers by the pint. So bring a cooler and some ice packs, and carry home a delicacy that your friends are likely never to have heard of before!
Have you ever heard of whitefish livers? Would you be bold enough to give them a try?
Whitefish livers, you are tickle city!