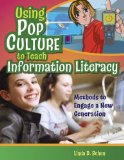 Pop Culture doesn't always have a great reputation. It is often criticized for being superficial, trivial and even an insult to one's intelligence. An organization that has a radically different opinion is the Greenwood Publishing Group with its digital library Pop Culture Universe.
Tickle City Award has summarized author Steven Johnson's argument about how modern popular culture has significant cognitive benefits. Pop Culture Universe, on the other hand, recognizes the value of pop culture for serious research and study and strives to provide an authoritative database full of high quality resources.
The website's about page gives a brief mission statement:
…Pop culture brings us together as a people. And, no surprise, teachers and librarians increasingly use pop culture to engage students in reading, writing, and research … Built on hundreds of award-winning titles for all levels of researchers, PCU provides a safe haven for investigating topics that appeal to students—without the bias, advertising, suggestive content, or questionable authorship of commercial or fan sites.
The digital library offers an easily searchable database containing a wealth of full-text resources, including encyclopedias, biographies and other important published books. There is also a convenient collection of "Decades Pages" that offer a convenient overview of a particular time period and even quick lists of the most popular movies, books and music.
For the 2000s, the page informs us that Nelly's Hot in Herre and 50 Cent's In Da Club were some of the most influential songs of the decade, and you can click through to read why.
Once more students come to learn about Pop Culture Universe and make use of the resources, it's likely that there will be a proliferation of term papers about Ice Cube, American Idol, and Harry Potter, since they are finally able to cite sources other than Wikipedia.
PCU has something for everyone, from public libraries to high schools to the university level. The University of Illinois Urbana-Champaign Library, one of the most respected research collections in the world, lists the database as a starting point for undergraduate research.
In order to truly understand our history, social identities and even global economic and political issues, we simply need pop culture. And PCU is an excellent way to learn.
Pop Culture Universe, you are tickle city!