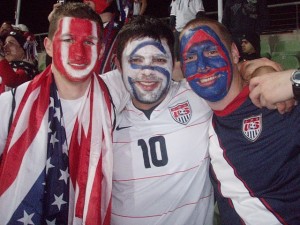 Last fall, Middleton, WI native Andrew Stephenson won the Tickle City Award for an epic trip planned with two of his friends. The three would be in South Africa for the World Cup and make a jaunt through Europe afterward.
The trip is now in full swing and has been all they could have imagined and more. The trio has already made numerous friends, both human and animal, and experienced many adventures including a stay at a joint Casino/Bird Park.
Stephenson, Ted Schleisman and James Livesey arrived in South Africa on the 10th of June after first touring Rome and Ireland. They have stayed with hosts, crashed in hostels, taken fan buses and bummed rides all around the country to cheer on the United States in its first three matches. Before the first game, they had to endure some trash talking from an English fan who was touting the Brits' superiority at the keeper position, only to see Robert Green give them the perfect comeback by committing the most shocking goalie error in recent memory.
Early on in their stay, the boys even won their very own Vuvuzela horn in a goal celebration contest and are now able to proudly add to the unique South African crowd atmosphere.
In addition to the soccer games, they were lucky enough to meet and pet the prestigious ambassador cheetah of a local cheetah park and play with baby lions at a wildlife reserve, sustaining mild bites.
For all the great animals they are meeting, the group is also eating some very fine ones: they've sampled ostrich neck with pumpkin, crocodile, zebra and many other local flavors.
After picking up their tickets for the next round of matches, the next destination is Rustenburg for U.S.-Ghana on Saturday in the Round of 16.
This journey has been covered by newspapers and other media outlets and the boys were even featured as faces in the crowd on ESPN. They are keeping a daily log of their experience on their own website, To SA and Beyond, so check out these and other adventures there.
To SA and Beyond, keep on with the ticklishness!