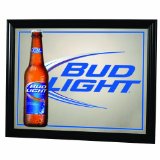 Bud Light has come up with a great new advertising campaign centering around the phrase "Here We Go," which conveys the particular beer's "unique ability to elevate good times with friends."
Anheuser Busch promotes responsible drinking; however, these recent Bud Light
commercials seem to tiptoe the line by presenting hilarious activities that would never be attempted without the aid of at least eight or so Bud Lights.
The Infamous Avocado Commercial
In one of the ads, a guy casually points out his flat bed full of avocados to his friend, who replies that he has a bunch of ponchos and an industrial wood-chipper. A third friend adds that he has Bud Light
, and after uttering the infamous catchphrase "here we go," the trio is off.
After some period of time, they are dressed in the ponchos, yelling "fire in the hole" while shooting avocados at each other and sloppily preparing a home-made guacamole for an impromptu backyard party. They have somehow convinced bikini clad girls to join this event, and everyone seems to enjoy the taste of the "guacamole" they have made. I'm not exactly convinced that this is the kind of activity that males of the 21-29 year old age demographic engage in after casually drinking a beer or two, though it is very believable in other contexts with significantly more beer.
Reaction and Bud Light's Investments
According to Anheuser Busch's social responsibility website, beeresponsible.com, the company has invested over $830 million in education programs to help teach responsible drinking. Staying true to their famous ad, perhaps these programs advocate discouraging a friend from drinking too many Bud Lights by suggesting that he instead operate heavy machinery after having a few.
All of these new Bud Light commercials are hilarious, however, and the campaign has even earned a good review in the NY Times media blog:
"The other humorous Bud Light commercials include one in which a boorish man crashes a women's book club, another that spoofs "Lost" and a third about the reaction of scientists to news that an asteroid is about to crash into Earth."
They have set the bar rather high for ridiculous antics, as enthusiastic partiers have even invaded a hospital with large quantities of Bud Light in another commercial. We'll see if Bud Light's Here We Go campaign can continue to impress.
It's certainly tickle city!