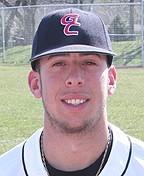 Back in November of last year, the Tickle City Award Committee recognized Nick Merklin for his experience playing football in Serbia. Well, more DIII athletes are making a name for themselves overseas, and one in particular deserves recognition.
Gary Kahn (right), a former standout pitcher for the Grinnell College Pioneers, has headed to foreign lands to continue his passion for baseball, with some DJ-ing, nightlife and even a little courtship of females thrown in.
After a successful season with the Karlskoga Bats of Sweden's top league, he has signed to play with the Durbanville Villains of South Africa and is currently pitching and serving as a Junior team coach.
South African players are attempting to emulate the success of the country's most decorated player, catcher Mark Miller, who in 1980 reached the AAA level of the Cincinnati Reds organization. Miller batted .154 in 15 games for the 58-77 Indianapolis Indians and even socked an extra-base hit.
But all joking aside, the league provides a great opportunity for Kahn. The South African Major League is very competitive and the MLB regularly sends over scouts during the off-season. Many players end up getting signed.
Off the diamond, Kahn has been keeping busy, as he documents on his excellent blog Have Glove, Will Travel. Kahn reports on baseball and sociocultural experiences all over the world, and the blog gives some insight into his activities at bars and nightclubs:
Because a girl was taller than me, it seemed like a good idea to lick her nose.

I also noticed is that this party is a great excuse for the biggest guys in Cape Town to take their shirts off, show off their musculature, & dance around with all the girls. Now am I the type of person to do something like that??? Duh.
… I then begin to prepare myself for the inevitable slap across the face. I got a laugh and her number instead. 5 points for Gryffindor!!
Kahn has also had an opportunity to interact with some of the wildlife of the area:
Ate ostrich. Ate tortoise. Chilled with penguins on a beach. Jumped in the ocean; didn't get eaten by a shark. Chilled with a pod of squirrel monkeys–they climbed on me and stole my sunglasses. A springbok (SA national animal) approached me and wanted to be pet–like a dog.
With all of this excitement, it would be easy to forget the main goal of this experience, but he takes care to give his readers a reminder:
Oh yeah…during this vacation-like scenario, i'm also playing baseball!!!
Gary, you are tickle city!