In 2005 ESPN schemed up a new way to profit from the poker craze sweeping the nation by unveiling Tilt, the network's second drama following Playmakers. It lasted just nine episodes, and was blasted by gamblers, poker enthusiasts, and anyone with a faint idea of how a casino operates for its unrealistic depictions of the lifestyle. Created by the same writing team as the cult hit Rounders, "what the hell happened?" seems to be an appropriate question.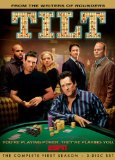 The cast looks like the perfect formula: a likable bad-boy (Eddie Cibrian), a hot chick (Kristin Lehman) and a tough black guy (Todd Williams). Throw in "The Matador," (Michael Madsen) the corrupt, despicable antagonist who cheated all of them out of their money years ago and it looks like we have a nice little show. But the misrepresentation of the Vegas lifestyle proves too much to overlook.
In the show, the fictitious Colorado Casino staff seems not to be content generating revenue by enjoying the House Edge that guarantees big casino profits at every single table game and by taking the scaled commission "rake" fee standard at every poker table. Instead they also choose to also cheat selected out-of-town individual poker players at one particular table. "The Matador" employs a group of "horses," paid subordinates who flash him signals to tell him their hole cards in Texas Hold-em. The casino risks its reputation and pays four to five partners all just to occasionally cheat one player out of about $10,000. Compared to the big profits in the casino business, this is pennies. And furthermore, even with this scheme, knowing the hole cards of a few other players would certainly shift the odds into "The Matador's" favor, but it wouldn't come close to guaranteeing he would clean out the visiting player.
The website review on playwinningpoker.com heavily criticizes the show:
"Again like Rounders we focus on scumbags, but they are neither realistic scumbags, nor even close to the scummiest of the poker world. These guys do absurd nonsense. They think in idiotically brain-dead terms (no less that FIVE characters seem motivated only by revenge without the slightest care about the money, wealth and power swirling around them)"
Yet, despite all of this, the show somehow remains very ticklish. By far the coolest character is Lee Nickel (Chris Bauer) a former cop bent on revenge for the death of his brother at the hands of "The Matador." He refuses to consider the consequences of his actions and roams around Vegas beating up everyone he finds. At one point he tells one of "The Matador's" henchmen that when things go south he'll get thrown to the wolves, then lets out a dramatic howl to hammer home his point.
Madsen's character, while probably one of his most boring roles ever, is still pretty sweet. Madsen starred in films like Resevoir Dogs and Kill Bill, and throughout the show he "lures young bulls into the ring" and them takes them down with a combination of cheating and classic one-liners. The clever banter at the tables and the look into the seedy private lives of this group of gamblers is really pretty entertaining. In the words of the show: "This isn't America; it's Vegas."