In Part 1, we reported on several jailed or jail-bound rappers including Lil' Wayne, Gucci Mane and T.I. Today, however, we'll focus on one particular rapper that got out just two weeks ago after serving six years and has vowed to "shake up the world:" Mystikal.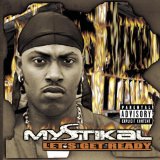 A bright talent back in the 90s, Mystikal (right) courageously shook off early psychological challenges (he was teased and "dissed" by other rappers on various tracks such as Drag 'Em in the River by U.N.L.V and F*** Big Boy by B.G) in order to deliver some memorable albums.
In a climate where popular rappers were developing their own unique flow and delivery, Mystikal came up with the idea of yelling his lyrics unintelligibly.
His most popular hits have been Danger and Shake Ya Ass, but many other songs are pretty ticklish, including Unpredictable, I Smell Smoke, and especially Ghetto Fabulous, where his verses are perfectly complemented by the mostly unintelligible soulful chorus from R&B artist Charlie Wilson.
In 2003, though, he decided to explore how many different types of extortion he could get away with on his hairdresser. He had racked up financial and sexual by the time he was arrested on counts of sexual battery and extorsion, and he was sentenced to six years in prison in the Louisiana State Prison system.
Mystikal was recently released on January 14, 2010.
Wasting no time, Mystikal is planning to headline a Mardi Gras concert in New Orleans on Feb. 16, and has revealed to various media outlets that he has big plans. It remains to be seen exactly what he has up his sleeve now that he's out, but if someone is going to "shake up the world," the Tickle City Award Committee definitely believes Mystikal. Stay ticklish!