It's never ticklish when rappers get locked up. Today, the most popular examples are T.I (right) and Lil' Wayne, the former arrested in a sting operation hours before the 2008 BET Awards for an illegal purchase of three machine guns; the latter busted for criminal possession of a weapon.
But they have plenty of legal resources at their fingertips, and rappers occasionally enjoy favorable sentencing. Satirical news organizations have even reported that Lil' Wayne might get a deal with the DEA where he'll work in the fight against drug trafficking by traveling to problem regions and depleting the supply by doing all of the drugs himself.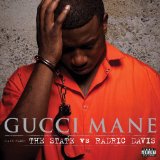 Gucci Mane (right) also faces a year behind bars, and he might be well advised to try to work something out with an environmental organization, as his extensive experience with ice and "being icy" could prove invaluable for global warming research relating to the retreat of glaciers and permafrost in the Atlantic Ocean.
The cases involving these rappers are intriguing, but the official reports are almost always characterized by extreme ambiguity. Gucci Mane, for example, was locked up for an "unspecified infraction," according to authorities. Three 6 Mafia phrased it even better when they reported that group member Lord Infamous, who hadn't been seen for months and was almost certainly in jail, was simply "on vacation."
Reactions from rap fans are varied. Some lament the fact that with role models like these, violence with only become more prevalent among youth who now think it's "cool" to get locked up.
Others, however, don't seem so concerned. ChiTownLuv, a user of a popular online urban fashion magazine, is only concerned that the police put all the rappers in the same jail so that they could make a mixtape. "tht would be the freaking best," (s)he concludes.
The Tickle City Award Committee feels that all of these incarcerations are decidedly un-ticklish.
Check back soon for Part 2, where we will highlight the experience of a particular rapper who recently served a multiple-year jail term and is now back out.