People need their Mexican food fix, regardless of the authenticity, and while you would probably assume an individual in Texas would have a better chance than one from Iowa, Tickle City Award has discovered that a ticklish dining experience awaits just about anywhere.
For those who wake up in the morning and have a craving for spices like chili powder, cilantro or epazote, refrain from chugging a spice jar or eating an entire plant and think about visiting an up-and-coming Mexican restaurant like these two.
To report on the opening of an establishment in Austin, Texas, here is guest columnist Benj Wagman: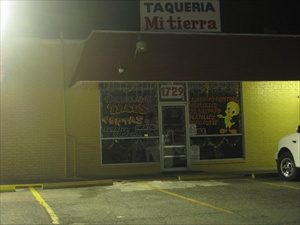 Tickle City Award,

Readers, please take a moment to consider the ticklishness of "Taqueria Mi Tierra". Audacious as it is to nominate this humble eatery, just a couple months old, for knighthood into the immortal realm of Tickledom, I stake my reputation, right here, right now, on its deservedness of this honor. I'll try to explain, but really, you gotta try the menudo (cow stomach soup), ASAP.

Enter "Mi Tierra" and scan your domain. Six or seven plain tables stand before you, likely empty, for "Mi Tierra" is as undiscovered as it is impeccably clean, fragrant, and authentic. From here your eyes might be drawn to the jugs of free iced tea and your ears to the sizzle of fresh ingredients on the grill. What's that in the corner? A fridge full of homemade salsa? Yeah, it is. Odds are favorable that the man who takes your order will also cook your food, so take this opportunity to find out what's good. Strike the right tone, and the proud employee could just shower you with free samples, or even full-size dishes, of their finest foods until you can eat no more. "Please, tell your friends" he might say. And you will.

Hell, I was gonna tell them about that fridge full of salsa anyway.

This ticklish taqueria is in its infancy, and everyone knows times is tough right now. What does the future hold for "Mi Tierra"? Promise. It should be a matter of weeks before they accept credit cards, which will greatly expand their customer base to people hungry enough to forget that they don't have real money.

Not lost in my motivation is that the Tickle City Award may be just the kick that this outstanding yet vulnerable establishment needs to burst onto Austinites' restaurant radar, as readership here is expanding daily due to the aggressive circulation of Tickle City Award business cards.

Yours from the field,
Benj
Taqueria Mi Tierra, you are tickle city!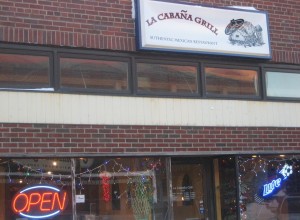 Meanwhile, in the middle of Iowa, the Mexican food market is picking up steam and growing in popularity. In Grinnell, a town of about 9,000 residents, one Mexican restaurant seemed appropriate.
But like a TV sitcom in desperate need of new characters, Grinnell Mexican food is getting an injection of brand new drama this season. A second restaurant recently opened and a third, comically situated less than a block away from the second, is scheduled to open in less than a week. These three will fight hard to claim the spotlight, and it remains to be seen whether one will dominate or whether restaurant goers will become flustered by the choices and flock to familiar Taco Bell for ½ pound nacho crunch burritos.
The Tickle City Award Committee recently enjoyed a meal at La Cabana Grill, the second restaurant, and thinks that it might prove to be the most ticklish of the lot.
The choices on the La Cabana menu are almost overwhelming, and range from combination platters to sizzling fajitas to all sorts of other ticklish Mexican grill items. The lunch specials cannot be beat, starting at $3.95 and will certainly fill you up while keeping your wallet full as well. The food comes out quick and it's always hot and delicious.
The interior is bright and cleverly decorated, and if you're looking to get drunk while looking at a colorful mural you could definitely make this your place, as the bar is fully stocked.
The Mexican beer industry has undergone a major consolidation in recent times, and while today it remains firmly in the hands of two Mexican corporations, Anheuser-Busch holds a 49% stake in the largest, Grupo Modelo. Whatever the business ownership and market forces at play, La Cabana is able to offer a variety of great Mexican and domestic beers for damn cheap. The enormous margaritas are another hit, and a fully stocked bar offers almost endless other possibilities.
La Cabana, you are tickle city!