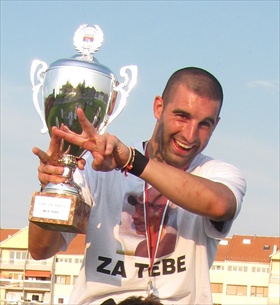 For top NCAA Division III college athletes, a professional gig in Europe after graduation can provide a great way to keep playing the sport they love while experiencing a completely new culture.
Every year, football, basketball and baseball players find opportunities in many different countries where professional leagues are rising in popularity. But also every year, large groups of confident soccer players cross the pond with big dreams only to find out that world-class soccer is already rather widespread over there, and just about every kid over fifteen off the street is way better than them.
Nick Merklin, a former standout for the Grinnell College Pioneers, recently played a season of football for the Kragujevac Wild Boars of the Serbian National League. Merklin described his feelings about traveling to this particular part of the world:
Starting last February I embarked on an adventure into Ex-Yugoslavian land. I was to be stationed in Kragujevac, Serbia, about an hour and a half south of Belgrade, the last Yugoslavian capital and main target of NATO's bombings a mere 10 years ago. But quite honestly, Serbia is a great country, and I never once felt threatened or scared in my five months there. In fact, it is probably 25% safer than Detroit, MI, with the percentage increasing to well over 40% if located on 8 Mile.
The Wild Boars have enjoyed some success, having won the Serbian Championship in 2008. Merklin elaborated a bit about his mission in Serbia:
I sought to enlighten these Serbians about the sport of American football. They had a great deal of talent, but their understanding of some of the more complex things concerning the game of football was lacking. Therefore, I instituted some new schemes for our defensive and special teams players. The response from my teammates was great, as we won another Serbian Championship by the score of 67-33.
In addition to an excellent football experience, Merklin enjoyed the opportunity to travel, and he even learned some valuable things relating to travel regulations, culinary art, linguistics and hot chicks:
We got to play a team from Poland and one from Italy. Also, with bye weeks during the season I was able to take two lengthy trips. The first was to Budapest, Prague and Bratislava. Yes, I stayed in some hostels and in no way was my experience like Eli Roth's horror film.

The next trip was down through Macedonia to Greece. I visited some Grinnell alums and enjoyed a 13-hour day trip to Athens including a whirlwind tour of the city and a downtown concert.

A trip I DID NOT take, however, was for the semi-final game of our international league. This away game was scheduled to be played in Hungary. However, VISA troubles didn't allow us to travel, thus forfeiting the game. See, Serbians aren't allowed to travel to many other countries without a VISA. Our submission to the Hungarian embassy for 38 of our Serbian players was denied, confining us to Serbian borders. It was an interesting twist on life abroad.

Things I learned in Serbia:

* Grilles are in abundance, delicious, and inexpensive
* Rakia, a fruit brandy and the national drink, is a silent blackout party calling your name
* There are 7 different ways to pronounce words in the Serbian language, so raising one's voice to a moderate yell allows for easier assimilation to the language while in public
* Serbian women are gorgeous. If they are walking down the block to the market for some milk, they will spend 40 minutes getting ready for the endeavor.
Nick Merklin and the Kragujevac Wild Boars, you are tickle city!