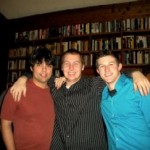 Next summer, three best friends from Middleton, Wisconsin will embark on a trip of a lifetime to celebrate their graduation and get ready to enter the next phase of their lives. Andrew Stephenson (center), Teddy Schleisman (right) and James Livesey (left) are heading to South Africa to catch the 2010 World Cup and then will travel through Europe.
The boys are using couchsurfing.com in order to meet as many new and interesting global citizens as they can. They also probably wouldn't mind being fed. After the World Cup, they plan to travel through Eastern and Western Europe until they have no more funds, at which point they will reportedly swim back to the states.
They have a website where you can learn more about them, see their itinerary, track their progress and even sign up to host them. Check it out.
Stephenson wrote to committee@ticklecityaward.com to describe how the trip came about:
A contract was written on a bar napkin with lines for all three to sign. James and Teddy penned their names in agreement, with my signature shortly following when I returned to Madison. The legal napkin detailed a vague, but exciting, plan for all three friends to pack their bags in the summer of 2010, after all had graduated, and head overseas for the trip of a lifetime. No exact dates or locales were given but, instead, a general idea that the three men would travel together, as friends, until such time as all funds were exhausted, at which time they would return to the states, memories abounding, and begin the next stages of their lives, whether that be graduate school or a fresh career.
Schleisman was responsible for securing the World Cup tickets, and shared the story of his good fortunes:
On March 30th, one day before the application deadline, Teddy entered names and passport information for the three hopeful football fanatics. As this article reports, over 1.6 million tickets were requested during this first application phase, dashing hopes that all, if any, tickets would be won.

However, on the morning of Friday, April 24th, 2009, while laying on the couch recovering from a long day and night of Drake Relays, Teddy opened up an email from FIFA on his phone and staring back at him was the confirmation he had only dreamed of; he and his two best friends had literally won the lottery! 3 tickets to 6 six matches, to follow the USA as far as they go plus a second round, quarter final and semi-final match no matter who advances.
Stephenson, Schleisman and Livesey are getting excited for the journey, and encourage you to follow their progress on their website. They are also waiting to see if they will be contacted by United States head coach Bob Bradley about playing for The Red, White and Blue since they'll already be at the games.
To South Africa and Beyond, you are tickle city!