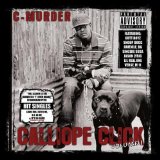 Today marks the release of a rap album entitled The Calliope Click Volume 1. At first glance, it's a pretty typical effort: familiar themes and images and plenty of guest appearances including big names like Snoop, Juvenile and B.G.
But there are a few things that set it apart. For one, the artist, C-Murder, is serving life in prison after a wild journey through the legal system that has lasted years. Originally convicted in 2003 of second-degree murder and handed Louisiana's mandatory life sentence, C-Murder (Corey Miller) was granted a new trial in 2006 after it was proven that prosecutors illegally withheld criminal background information about their witnesses in an attempt to display them as credible. During the trial, a strong movement advocated that Miller was a victim of mistaken identity and was not involved in the shooting at all.
By the time Miller was released from prison in 2006 he had already released one album from jail, The Truest S*** I Ever Said, recorded during visiting hours with a recorder brought by his lawyer. He was placed on house arrest and proceeded to create more albums, but his creativity was not limited to just music. Miller became an avid reader while in jail, especially fond of suspense author Dean Koontz, and over the span of two years wrote a novel entitled Death Around the Corner. His powerful work garnered many good reviews.
Despite his newfound success, Miller's new trial took place this fall and on August 11, 2009, Miller was again convicted of second-degree murder and sentenced to life in prison once more. However, the case is far from over. The Louisiana NAACP officially launched an investigation into the jury deliberations two weeks after the conviction. Also, local organizations have claimed that the conviction was racist, and that authorities were quick to pin the blame on Miller because of his status as a famous African-American rapper. An appeal looks likely.
Whatever the truth is regarding Miller's guilt or innocence, the real victim of the tragedy is the 16-year-old boy who was shot and killed at a nightclub back in 2002.
Musically, The Calliope Click Volume 1 definitely has what it takes to earn a place among the best rap albums of 2009. Its back-story, though, completely sets it apart from the others.