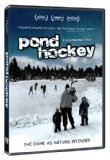 With bitter cold temperatures sweeping through the Midwest and snow gently falling, we are naturally turning our attention to one thing only: our ponds are freezing. With that comes the opportunity for pond hockey, a simpler and more skillful version of ice hockey played on frozen natural bodies of water. Some of us may fondly remember these pickup hockey games with our childhood friends in years past: laying down shoes to make goals, using the surrounding snow as boards and tying your opponents' skates together when they weren't looking so they fell hard on the ice, giving you more than ample time to slot the puck home.
Unfortunately, the pond hockey movement today is in a dire situation, due to kids ditching hockey out on the local pond in favor of playing in indoor arenas with structured practices, or migrating to coastal regions with tropical climates to avoid the cold. Pond hockey enthusiasts argue that kids don't develop their puckhandling skills as effectively when they are playing organized indoor hockey or sitting around on a beach from a young age.
Andrew Sherburne, an alum of Grinnell College, and Tommy Haines have recently made a ticklish film called Pond Hockey documenting this changing cultural phenomenon, as described on pondhockeymovie.com:
"The pond. This is where hockey was born — under the open sky—where the ice is gritty and so is the play. For generations, we've grown up on outdoor ice. But, there are new climate-controlled arenas in every town, and that's where the kids go to practice year-round now. The frozen ponds are losing their inhabitants."
Anyone that gets tickled by hockey, sports culture, climate change, ponds and/or ice should definitely check out this entertaining and provocative film. You'll see interesting interviews with Wayne Gretzky, Sidney Crosby and Neal Broten and you'll cheer along with teams as they compete at the World Pond Hockey Championship. The film has won "Best of Fest" at the 2008 Minneapolis/St. Paul film festival and after you watch it, you won't be able to resist a pick-up game of something. Pond Hockey, you are tickle city!